Espère Healthcare
Chris Steeples
Espère Healthcare
Chris Steeples
"We have been sourcing innovative Medical Devices to improve patient care in Dermatology, Woundcare and Podiatry for over 15 years" 
Contact
Bio
Chris Steeples is the Managing Director and Founder of Espère Healthcare ltd. A physiologist by training, Chris has spent all of his working life in Pharmaceuticals and Medical Devices since graduating (apart from one summer as an Ice Cream Man in Bradford!) Following a successful career in blue chip companies, such as Wellcome and Bioglan Pharma, Chris set up Espère Healthcare Ltd in 2006 and has been supplying evidence based medical devices to the public, NHS and specialists in private healthcare since then.
Chris has considerable experience in both the scientific and technical aspects of his craft but also sees the world from the point of view of a small business owner and is happy to pass on nuggets of advice from his experience.
Verrutop – the revolution in topical treatment for warts and verrucae
Verrutop is a new type of wart treatment. Whilst some of the compounds in the formulation may be familiar, Verrutop is designed to use them in a different way. Unlike Cryotherapy or other chemical treatments, Verrutop does not act by freezing or burning the tissue. Instead, in a quick and painless process, Verrutop denatures the viral protein and desiccates the wart tissue, which then falls off the skin, leaving intact skin underneath.
Abicin 30% Resin Lacquer – Fungal Nail Treatment
Abicin is a naturally-based, clinically tested treatment for fungal nail infections based on the resin from Norwegian Spruce trees which has powerful antifungal and antibacterial properties. Clinical studies have shown this to be as affective as topical amorolfine with twice weekly application.
Limited time offer for Medifoot
Conference attendees
"Time to buy and Try"
Until the end of July 2022 attendees at Medifoot Conference will be able to buy a Verrutop and receive a full sized sales pack of Ureadin Podos to try on a patient absolutely free!
Yes, for each Verrutop purchased we'll include a free 75ml pack of Ureadin Podos, RRP £10.99 absolutely free. Simply use CODE – PODOS 22 when you order by phone on 01462 346100.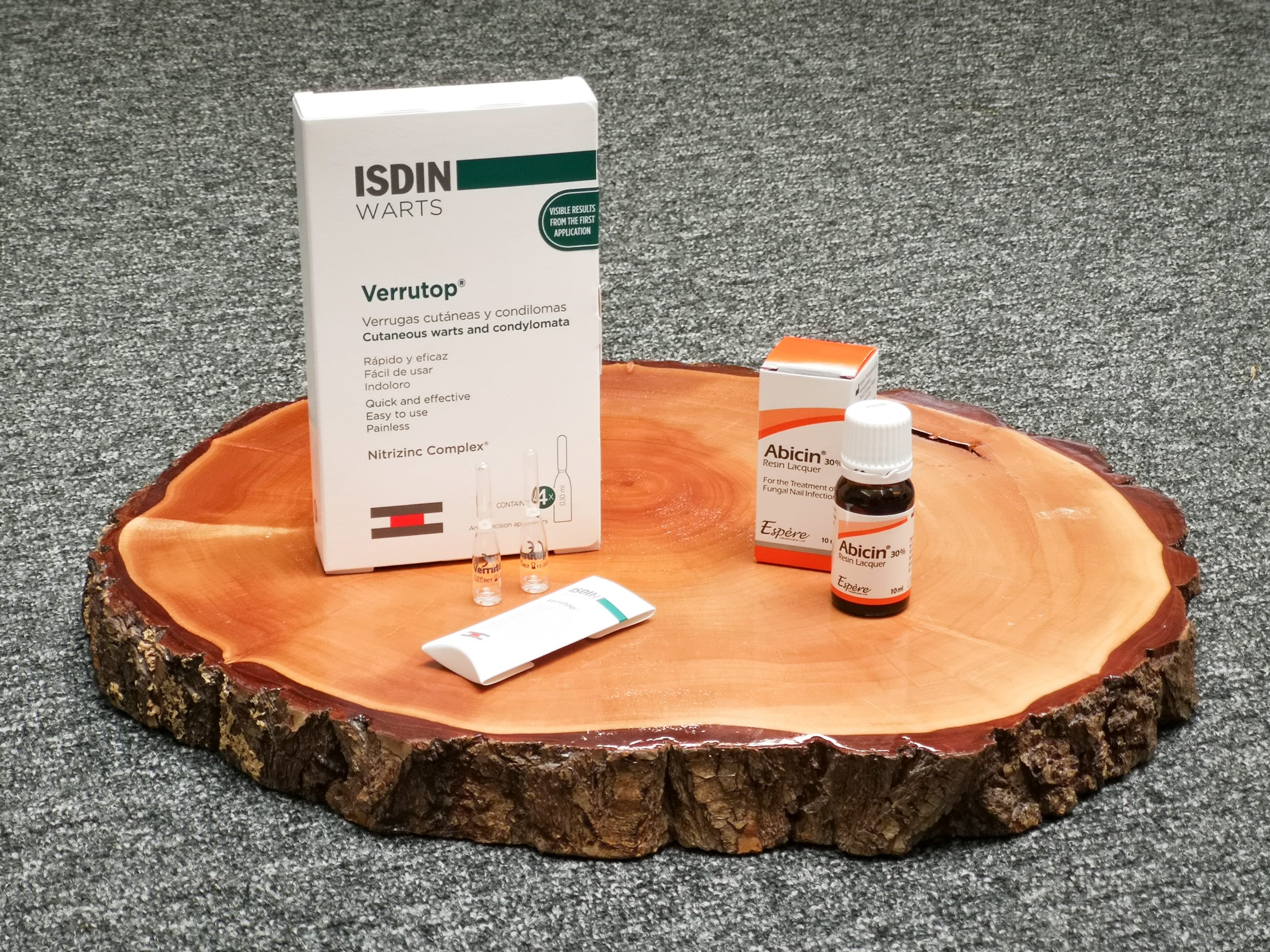 New Ureadin® PODOS 75ml
Hydrating gel oil that repairs and hydrates cracked feet.
 Removes Roughness – lactic acid & bacillus ferment
 Repairs dry cracks – shea butter, allantoin & panthenol
 Hydrates intensively, ISDIN 10% Urea
 Innovative gel texture – fresh, light and non-greasy. Quick absorption
 Suitable for diabetics
 Fine point nozzle – target application and reduce wastage
 Suitable for once or twice daily application to prevent or treat

97% improvement in foot condition
63% reduction in crack depths
97% of patients report Easy, fast an uniform application.
ORDER ONLINE DIRECT
Click to order online direct from Espere Healthcare Ltd
PHONE SUPPORT
We are happy to discuss any questions or queries that you may have and also take orders over the phone. Just call us on
01462 346100.
RESOURCES
We have created a range of resources to help you reach your clients and build your business.